Saland Law PC is pleased to once again announce that Super Lawyers has recognized Elizabeth "Liz" Crotty and Jeremy Saland as leaders and top attorneys in the New York City region for criminal defense. Former Manhattan prosecutors who kicked off their career in 2000 as rookies in Robert Morgenthau's Manhattan District Attorney's Office, both Liz and Jeremy have a record of success on both sides of the criminal justice system, as Family Court attorneys, Title IX and Code of Conduct advisors, victim advocates in the area of Revenge Porn, Stalking, and Extortion, and other matters both in and outside the court system. Trial attorneys who earned their stripes in the trenches of NYC's courts, Liz and Jeremy are proud that their record and colleagues' support once again earned them this well-deserved recognition.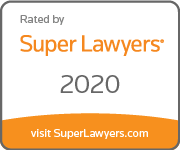 Liz Crotty, Esq.
A lifelong New Yorker from Stuy Town currently running as a Democratic candidate for Manhattan District Attorney, Liz stayed true to the city she has called home and enrolled in Fordham Law School where she graduated in 2000. After serving as a prosecutor from 2000-2006 and then in a boutique litigation firm, Liz joined her fellow rookie to start Saland Law PC in 2008. Liz's breadth of knowledge and her ability to advocate for clients is not only born from her own personal experiences and those she gained in her professional life, but her unwavering recognition that the pursuit of justice must not falter no matter the individuals involved and the circumstances of their particular case.
A former Obama volunteer in the Scranton area voter protection program who stepped up to the plate when service called, Liz knows that advocacy doesn't end when the business day is over whether for clients or the public. Not only is Liz a board member for the Manhattan District Attorney's Association, but she stands behind her principles of equal justice when evaluating candidates seeking to serve on the bench as a member of the New York City Bar Association's Judiciary Committee just as she did when serving on the International Human Rights Committee. Simply, being a part of the process and not merely a spectator is how one can exact change and how Liz conducts herself. Liz belongs to the Federal Bar Council and is admitted to practice in the State of New York as well as the Southern and Eastern Districts of New York.
Jeremy Saland, Esq.
After graduating from SUNY Buffalo Law school, Jeremy joined the ranks of the New York County District Attorney's Office in 2000 where he served in the Trial Division and later the Identity Theft Major Case Section before leaving the office in 2007. After brief stints as a criminal defense attorney in boutique practices, Jeremy opened the doors to what would later become Saland Law PC in 2008. Even while representing the accused in all levels of criminal proceedings from investigation through trials, Jeremy served as a part-time municipal prosecutor in Westchester County from 2010 to 2015 where he continued to hone his courtroom skills.
From exonerating a client after trial who faced five to 25 years in prison for a kidnapping he did not commit to absolving a woman falsely accused of misdemeanor crimes after catching her then-husband in the throws of an affair,  Jeremy's record speaks for itself. Whether presenting cases to prosecutors to pursue on behalf of victims, securing dismissals of wrongly issued Orders of Protection or obtaining years long Restraining Orders for petitioners of domestic abuse in Family Court, or putting an end to a client's victimization at the hands of an extorter or blackmailer, Jeremy is as effective as he is relentless in his advocacy.
Currently a board member of the Manhattan District Attorney's Association, Jeremy previously served as treasurer of the New York City Bar Association's Small Law Firm Committee.  Elected in 2015 and re-elected in 2019, Jeremy is councilman and Deputy Supervisor in a Westchester County municipality. Jeremy is admitted to practice in the State of New York and both the Southern and Eastern Districts of New York
Saland Law PC is a New York criminal defense, Family Court, Title IX, victim advocacy, and Child Victims Act law firm representing clients throughout the NYC region, State of New York, and other jurisdictions.