If you shook Robert Morgenthau's hand, you were one clasp away from the men and women whose names you read about in history books, faces you saw in black and white photographs and movies, and voices you heard in scratchy inaudible recordings. From Presidents Franklin Delano Roosevelt and John F. Kennedy to Prime Minister Winston Churchill and Dr. Martin Luther King, Morgenthau was not merely a secondary figure, but a core piece of the fabric and events that shaped New York, the United States and the world. With these men's blood, sweat and tears, and that of countless other men and women whose names we will never know, the nation leapt forward with a purposeful objective even if only at times incrementally. Sadly, with Morgenthau's passing, night descends upon an era that we, as a nation, have already strayed for far too long. Gone are the days of FDR, JFK, and King when leaders unhesitatingly rose to preserve and protect the greater public good. Few are our leaders today who embrace their duty to selflessly safeguard the public irrespective of their personal agendas or beliefs.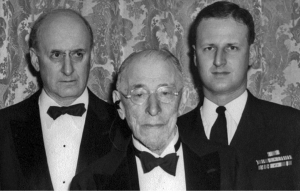 A man among men, former Manhattan District Attorney Robert Morgenthau personified the dogged pursuit of justice and indefatigable dedication to public service as his father and grandfather did before him. The grandson of the Ambassador to the Ottoman Empire under President Woodrow Wilson and son of President Franklin D. Roosevelt's Secretary of the Treasury, the Boss' contributions to the greater good are immeasurable and enduring. Governed by their collective moral compasses in the most challenging of circumstances, guided by hashtags on Twitter or paralyzed by fear over viral press the Morgenthaus were not. Similarly, in lieu of judging right from wrong based on the number of Twitter followers or basing their conclusions on hashtags and 280 characters, Morgenthau, along with the men and women of the Manhattan District Attorney's Office put their heads down and did so together to serve the public. Perfect and infallible we were not, but genuine and sincere we were. Born from the trenches of the criminal justice system and Morgenthau's tutelage, many prosecutors, including United States Supreme Court Justice Sonia Sotomayor and New York State Governor Andrew Cuomo, eventually took the lessons they learned and left to advocate for the public in different capacities. Others who remained and dedicated their lives to serve, such as Chief Warren J. Murray, Jr., may have remained "nameless," but are products and reminders of Morgenthau's drive for justice both in "the streets and the suites."
A member of the Greatest Generation who fought for the freedom of others during World War II, the US Attorney for the Southern District of New York, and the decades long Manhattan District Attorney, Mr. Morgenthau was as selfless and ethical as he was a gentleman, statesman, leader, and the iconic chief law enforcement officer. While Bernard Goetz, Mark David Chapman and their ilk may have played out spectacularly in the media, it was Morgenthau's "vertical prosecution," efforts to combat domestic violence, countless policies he instituted, and millions of other cases his office prosecuted that were the true measures of his accomplishments and influence.
After leaving the Manhattan District Attorney's Office in 2007, the Boss (actually, Ida, his right hand and multi-hat wearing assistant) would call me from time to time when a minor matter popped up with the family farm. Regardless of where I was or what I was doing, I would take the call and wait for Ida to patch the Boss through. On rare occasions I would get him directly, which, admittedly, was a bit of a treat. Despite his years, we would briefly banter about personal stories he remembered and the Boss never failed to ask about my family. Ultimately, after resolving whatever the issue was, Mr. Morgenthau would ask me how much he owed me and my response was always the same. "Boss," I would say, "I owe you for giving me a job and the opportunity to work in the DA's Office. But for you, I wouldn't be where I am today."
While I had the good fortune to be able to "give back" to Mr. Morgenthau, I am confident that I am not alone in my sentiments nor in my appreciation, respect and admiration for a man who influenced generations of young men and women while making New York City safer, modernizing prosecution, and protecting the voiceless and wronged far beyond the borders of our city and state.
Thank you, Boss, you will be missed but never forgotten.